Extensions - Designed for AVEDA
Studio 16 proudly offers VoMor Extensions that meet our high standards for ethical sourcing, durability and quality.
Why VoMor?
VoMor extensions are m
ade from Remy hair, or 100% cuticle-intact natural hair, which give you thicker, fuller hair in just minutes. Made exclusively for AVEDA salons, VoMor extensions are available in different lengths in dozens of colors ranging from ash blonde to deep black. The results are not only satisfyingly attractive, comfortable AND undetectable , but
completely safe for your natural hair and won't damage it in any way!
VoMor extensions are applied using two different techniques: hand-tied and tape-in. Keep reading to learn what is right for you: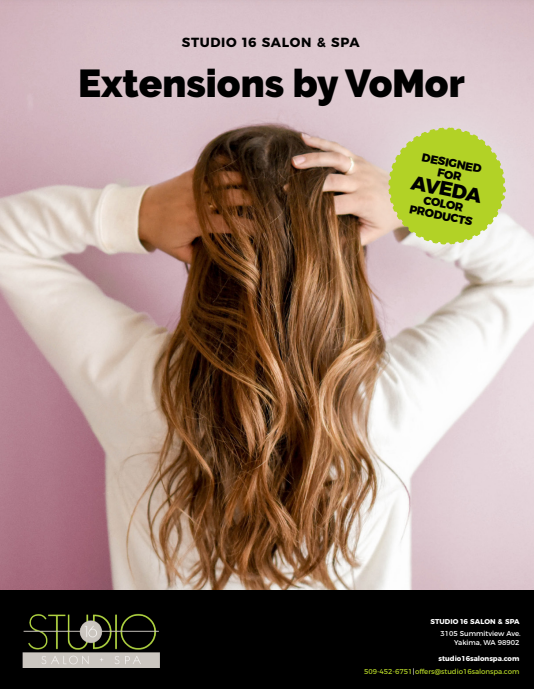 Get the Studio 16 VoMor Catalog to Browse EVERY Color and Style:
Different Extensions for Different Needs - What's The Difference?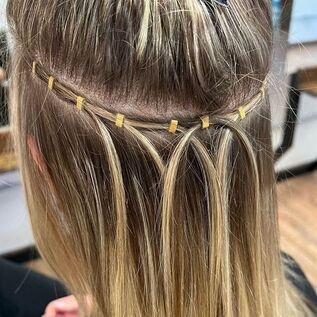 Hand-Tied Extensions
With the hand-tied technique, your extensions can add significant length to your hair without the agonizing wait it takes for your natural hair to grow out. Hand-tied extensions are ideal for clients with medium or strong hair density.
Hand-tied extensions are also long-lasting. With recommended wear of 6-8 weeks, they can be reused for around 6 months. That means you'll get to use your original extensions twice if they're properly cared for.
Available in 14", 18", and 22" lengths, these extensions come in 20 different colors, all aligned with the AVEDA color wheel.
Safe and comfortable, Vomor hand-tied extensions should be applied and removed by one of our Studio 16 stylists.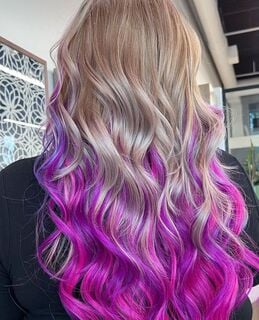 Tape-in
Tape-in extensions give you thicker hair in as little as 15 minutes, AND give amazing color without commiting your whole head of hair! Whether to enhance your fine hair or trial color highlights, tape-in extensions can help you achieve your hair goals quickly.
Available in 12", 16" and 20" lengths and in 35 different colors aligned to the AVEDA color wheel, tape-in extensions also come in 8 "pure pigment" fashion colors from topaz to turquoise.
Tape-in extensions can be worn for 6-8 weeks and used twice if properly cared for, giving you up to 6 months of stronger, healthier-looking hair.
Completely safe for your natural hair, these are comfortable and natural options that are easy and quick to apply and remove (by any Studio 16 stylist)!
Check out the transformations our Stylists are creating with VoMor!