Dash's Roller Coast Week
"So...where have David and
Andrea Andi Wintzer
been for the last week? We've been having what has been on a gigantic roller-coaster of the most heart-wrenching and joyful ride that a human can have in "The Wonderful World of Dogs"...here's the story and some of the pics that communicate just a tiny bit of what kind of "ride" we have been on with Dash, the lovable, sensitive and fun doofus Andi has had for 6+ years now:
1. Friday, the 24th - after a day of not eating and looking listless, we bring Dash to the
Tieton Drive Animal Clinic
who took an X-ray and blood panel and found that his stomach was badly distended but it was hard to see if something was in it. The Doctor quickly recommended we skedaddle to the WSU Veterinary Teaching Hospital in Pullman, WA. Which we did!
2. We got there near 5pm that evening and were checked in and met by a 4th yr student and then an ICU Doctor. The ICU team struggled all weekend with him after seeing the blood panel, doing more X-rays, putting him on an IV because he was not eating or drinking, and aspirating the liquid from his stomach with a tube that was inserted to his stomach through his nose. On Saturday night, they aspirated a full liter of water from him! Most of the rest of the weekend, he was averaging about 20ml/hr, so the trick was to get him aspirated enough to get a good ultrasound but not completely empty so the stomach would be "inflated" enough to get a good view with the ultrasound.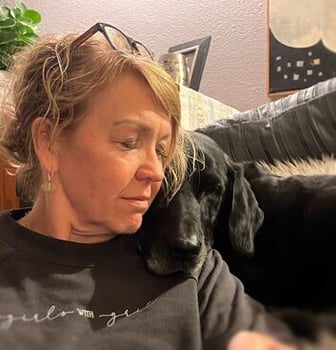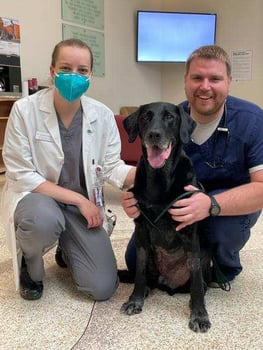 Left
: Andi and Dash enjoying cat videos together before his health crisis. Right: The surgery and post-op team (Dr. Hottman and Nicholas) presenting a healthy Dash to Andi at checkout on Friday, July 1st.
3. On a lighter side note, when we visited Dash the ICU doctors had already grown attached to him, and expressed amazement at his ability to sneeze out the 2-3ft long tube that was in his nose. When we came to see him Sat night, it had been sutured to his snout to keep it in!!!

4. Sunday night they finally get him in a place where the ultrasound would be possible, and on Monday morning after the ICU team did their rounds with faculty and internal medicine, they got the Ultrasound soon after and....found something! Yes, after 3 full and very frustrating days, they found an obstruction lodged in the top o of his small intestine...so we finally have our cause, which was a big "up" on the roller coaster, but it came with a big potential "down" too....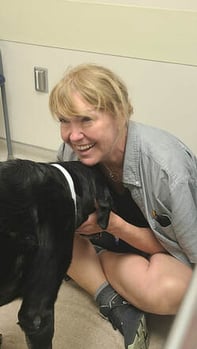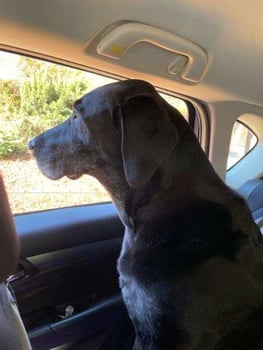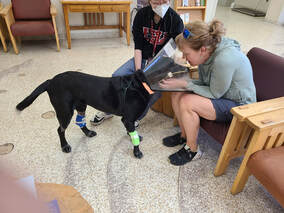 Clockwise from top: Andi greeting Dash for the first time the morning after he had surgery; Dash on the way home pondering all the meals, walks and meals he missed while he was laid up. A pre-surgery visit to Dash at WSU with one of the amazing Doctors we were privileged to see while we were there.
5. That afternoon, Andi and I were called in to meet with a team of three doctors from ICU, Internal Medicine and Surgery. They said their plan was basically to a. Start with an endoscopy to not only see more clearly what the obstruction was, but to potentially remove it. The Doctor performing this made it clear though, that they did NOT want to have Dash endure being put under twice so he would be in and out quickly - 30 minutes or less, to ensure surgery had the bulk of his time while under (they wanted to limit it to 3 hrs) to do what they had to do. But it was not going to be easy...why?
6. The obstruction was lodged in the top of the small intestine...which as it turns out is the hardest place to operate in. Because both the pancreas and gallbladder have their bile ducts empty into the small intestine in that exact spot, it would be unlike other procedures in the small intestine where they can usually snip away a small piece and then sew it back up. So they were going to try to MOVE the obstruction up to his stomach where it would be even easier than that.
7. At about 3:30, we finished the meeting and Andi gave them the OK to move forward (we were both at the point of "WHATEVER IT TAKES!!!!"), and at this time, while it felt like everything was moving WAY too slowly since Friday, we also realized that the team had been doing everything in its power to incrementally escalate the solutions to minimize any potential unnecessary. EVERY single doctor, intern, resident and student had been AMAZING and incredibly kind and focused on us while explaining what they were doing. So we left the hospital....and began the wait.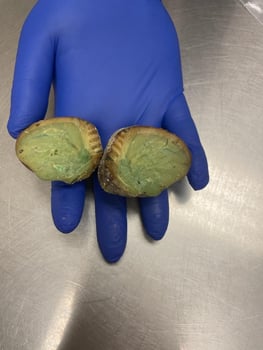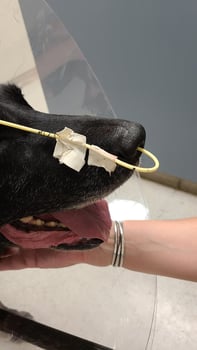 Super Dash: The hospital staff were apparently VERY impressed with Dash's physical feats, previously thought impossible - swallowing a 2 1/2" hard rubber ball and sneezing out a 2-foot long stomach tube enough times that they were forced to suture AND staple it to his head!!!
8. At this point my main job was to grease the walls of our nearby hotel room and strap mittens onto Andi to stop her from climbing the walls and pulling her hair out (yes, she came back with all her hair but I might have some cleaning bills from the hotel!). The waiting is terrible of course, and then we got the first call saying that the endoscopy was complete, and it could not remove the obstruction nor move it into the stomach, so the surgical team was on the job now.

9. After a DEEPER level of dread and suspense for the next 2-3 hours with NO call, we start losing our minds and reach out ourselves at 8:30 pm (about an hour after we assumed he would be out of surgery) and were connected with a SIXTH doctor who did the actual surgery and very cheerfully told us "Oh, he is fine! He came through it great, everything will be OK!" after which as they say "And there was much rejoicing...(yay)"

10. More tears flow, and then we ask "Well? What the heck was it???" and after all that, it turns out Dash had SOMEHOW swallowed a 2 1/2" diameter hard rubber ball (or so it looked like it had been). They could not identify it as it was badly misshapen and was either disfigured from being outside for a long time or in his stomach longer than we thought. Once they cut it open they could tell it was some kind of rubber ball! Whaaaaaaaat??? Dash NEVER swallows stuff like that, so that too is a mystery.

11. Once again, on a lighter note, Dash impressed the entire surgical team as they all swore they have never seen anything that big swallowed by any dog they have worked on. The Dr. on the phone even said "To be honest, we're not even sure how it was possible for him to get that down his esophagus".

12. We slept MUCH better that night, but then endured 3 more nights of up and downs with him eating, not eating, fever, no fever, etc. until the ran a full set of tests to ensure his sutures were not infected nor had any other residual issues that were causing it, and after clearing him of everything he started eating and perking up again like "normal Dash" on Thursday night. On Friday, Andi went back to Pullman and brought him to the hotel and is driving him home to Yakima this morning as we speak...due in about 1pm!

We are ALL so relieved (and also far more educated on canine biology than we ever thought possible)!!

More than anything, we have to share our HUGE thanks and gratitude and respect for everyone that looked after Dash since this started, starting with Dr. Hammes at The Tieton Drive Animal Clinic for her prescience in recognizing that Dash's situation was far more serious and merited the extra attention.

And then the amazing people at WSU Veterinary Teaching School, who constantly impressed us every day regardless of who we met or when their rotation was. Tara the 4th yr student got us started, and made extra efforts to communicate with us when Drs. were busy, Drs. Lam, Cheun and Liu of the ICU were SO intentional and deliberate with every step while communicating with us everything along the way, Dr. Sinha of Internal Medicine who was so careful and educational about the endoscopy and Drs. Hottman and Owens who were the surgical team that operated on Dash, and finally 4th yr student Nicholas (pictured with Dr. Hottman in the first picture) who managed Dash's aftercare all week and walked him, talked us through the daily updates, and generally turned into another Dash superfan after 5 days together - you were all amazing!

Needless to say, Andi and I (and a large community of Dash loving folks out there) are grateful our boy is home today, but it was also a HUGE expense for which we are grateful insurance will cover a good chunk of it. However, out of awe for the amazing work we say done for Dash, we are going to start a GoFundMe soon to help defray some of Dash's remaining bills but to also raise money for a Good Samaritan fund that we will choose (before we start the GoFundMe) to help them pay for the costs of helping other pets whose owners may not be able to afford lifesaving care for someone so important in their lives. Stay tuned!
Here's The Plan:



Dash's surgery, treatment and extended stay was VERY expensive, but fortunately Andi had decent insurance that will cover about half of the total. Our goal is to cover another half of the remainder as Andi can cover the remaining 30%, but also to send 50% of everything collected up to the goal to the two Good Samaritan funds in Yakima and Pullman. AND - everything OVER our goal will also go to the two Good Samaritan funds.
THANK YOU FOR
YOUR SUPPORT!