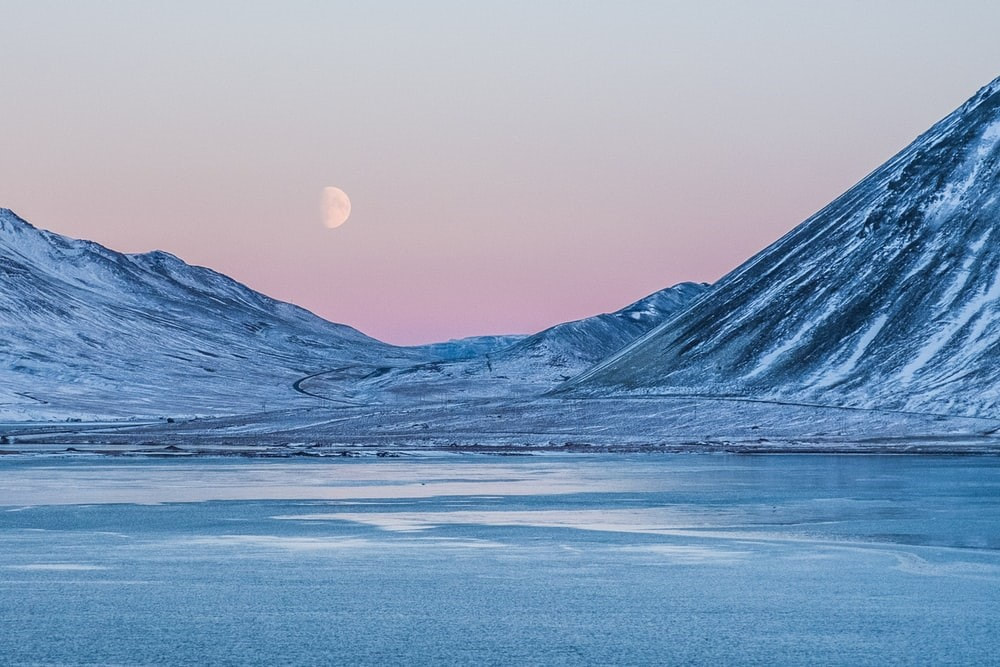 February 9 2021
Studio 16
Beat the "Winter Moisture Blues"
Love is in the Hair!

As we've moved from January into February and see beyond Winter to Spring…It's time to show some LOVE!

Love for our Hair
Love for our Skin
Love for our Selves

Winter is officially here, and along with it the snow play, hot cocoa, cozying up by the fire...and dry times ahead for your hair and skin, the "Winter Moisture Blues". Fear not - we've compiled some tips to help weatherproof and moisturize through the cold and DRY winter weeks.
Winter Hates Your Hair & Skin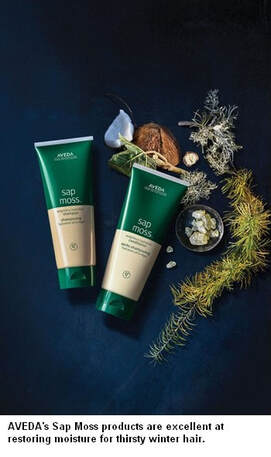 1) Your Heat
- Turn down the furnace while you sleep. Simply lowering your thermostat while you sleep will reduce the drying effect of the warm, heated air on your skin and hair, and give you the perfect reason to get your coziest, comforter out of storage.
2) Humidity is Your Winter Buddy
- Use a humidifier. The added moisture will make your skin feel less dry and add moisture to your hair, making both skin and hair more receptive to moisturizers and conditioners (Bonus if your humidifier has a place for essential oils). That "embarrassing static cling" you get in your hair? The humidifier will get that under control. AVEDA's Sap Moss Shampoo & Conditioner is also a great winter-time product that delivers a big dose of moisture to thirsty hair!
3) Give Yourself a Cool Rinse Cycle
– No one likes a cold shower, especially in winter, but while a steaming hot shower might be appealing when it's cold outside, the hotter the water is, the more it dries your skin and hair. Cold water effectively shocks your hair cuticle closed, leaving hair feeling healthier, shinier, and stronger. A cold splash is also great for helping your body deal with stress (and who couldn't use some help with that these days!).
4) Skip A Wash, or Three
- Our hair takes a beating with daily shampooing, drying and styling, so how about giving it a break? Start out by shampooing every OTHER day. But if you must shampoo daily, rinse your hair well on the in-between days and just place a light conditioner on the lengths of your hair and not at the scalp. Oils from our scalp help encourage healthy hair & scalp:) For "Day 2 Options", try the
Shampure Dry Shampoo
(great for finer textures of hair) or the
Rinseless Refresh
which is great for curly textures.
5) Your Blow Dryer Is Evil
– Well, not really, BUT it does make things harder for you in winter. Here's a few ideas to reduce the harm to your hair.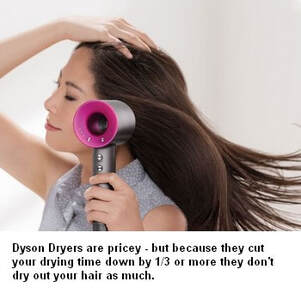 Wrap it up for at least 5 minutes - When you get out of the shower, wrap your hair up in a microfiber towel or an old t-shirt to remove excess water. No need to blow dry on HIGH just to get rid of the water.
If you must Blowdry everyday - Be sure you are using a styling product or heat protectant before you shoot HOT air on your locks
Make sure your setting is not too hot. Test it out by placing your hand in front of the air stream and if you can't hold it there for more than 30 seconds - it's too HOT.
At the Studio we recently switched to Dyson Dryers – and they have been well worth it just for the wear and tear on our stylists from the shorter time required. While they may not be affordable for everyone, I will say I think they are well worth it if you are blowdrying your hair at least 3 times per week. Whatever you use, be sure your dryer has at least 2 heat settings and a "cool shot" along with a minimum of 2 speeds. A good blow dryer should also have a lint filter that needs to be cleaned out regularly.​
Treat Yourself Now
Moisture Treatments for BOTH Hair & Skin are important this time of year. Cracked skin and frizzy ends are a sign of moisture depletion. Adding Moisture Treatments to your hair and skincare regimens are an easy way to stave off the effects of winter. We have both in-salon and at-home treatments to help you battle the "Winter Moisture Blues".

I would also suggest a nice hot bath, a glass of lemon water or wine if you so choose, a good book and to introduce into your winter routine AVEDA's Botanical Kinetics Intense Hydrating Mask for your skin or Nutriplenish Oil under a warm towel for 10 min for your hair. Better yet? Schedule yourself a Facial and a Hair Treatment with our spa professionals.
​
Hope this helps you beat the "Winter Moisture Blues" and let's get ready for SPRING!